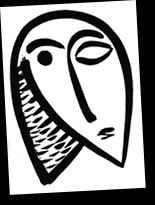 Creator of many of Melbourne's most loved public sculptures, Halpern's works exude an innate vitality and alluring simplicity. Spontaneous in form, her creatures are painted in a style that recalls visions of Gaudi, Picasso and the playful surrealism of French sculptor Niki de Sant Phalle, yet all have become distinctly Halpernesque in their ability to delight and surprise.
DEBORAH HALPERN's recently unveiled iconic 10m high sculpture Angel - incorporating more than 4000 individually cut and hand-painted tiles fixed to a steel and concrete armature - now sites resplendent in its new surrounds alongside the Ian Potter Centre: NGV Australia.
Originally commissioned by the National Gallery of Victoria in collaboration with the Australian Bicentennial Authority in 1986 for the recently remodelled NGV St.Kilda Road moat, Angel finally rests on the banks of the Yarra:
"In its new prominent situation, Halpern's Angel directs a coquettish gaze towards the throng of pedestrians who daily cross the city's venerable Princes Bridge, relating both to the nearby Ian Potter Centre: NGV Australia and the parkland of Birrarung Marr. At the same time it reminds us of the bicentenary of European settlement in Australia, the historic milestone that was the basis of its commission, and serves as a spectacular landmark in the city's vision of riparian revival that includes a sculpture walk along and around the Yarra... Halpern's Angel is a singular and singularly successful demonstration of the enduring appeal for us all of fantasy, mythic narrative and sheer exuberance of visual expression." Geoffrey Edwards (Director, Geelong Gallery), 'The Brightest of Angels', Ex.Cat. Deborah Halpern: Angel, NGV 2006
Angel's return to her beloved Melbourne public coincided with a major exhibition of Halpern's work at the Ian Potter Centre: NGV Australia at Federation Square 10 May - 23 July 2006. The survey show celebrated this extraordinary artist's career from her early wheel thrown functional wares and hand-built forms of the 1980's, to her bold graphics and gouaches, and her more recent whimsical ceramics and mosaic tile creatures. The show was also accompanied by a significant catalogue, including essays by Geoffrey Edwards (Director, Geelong Gallery, former Senior Curator, Sculpture, NGV) and David Hurlston (Curator, NGV) available from the NGV Shop.