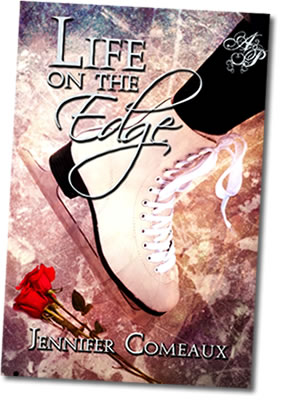 Tell us a little bit about yourself and your background?
I've lived in Louisiana all my life and graduated from Tulane University with a degree in accounting. I'm a Certified Public Accountant and work as the Tax Manager for a large corporation. Writing is my creative escape!

What are your first memories of the sport?
I have vague memories of watching Scott Hamilton in the 1984 Olympics. When I was young, I always watched skating whenever it came on TV, and the 1988 Olympics are the first I remember being very excited about with the Battle of the Carmens and the Battle of the Brians.
What is the attraction?
Skating has always been so beautiful to me - the perfect combination of sport and art.
Do you skate yourself?
I've only been on the ice once in my life! There aren't any rinks where I live, unfortunately.

Do you have any skating idols? If so, who are they and why?
Michelle Kwan is a skater I have admired for many years. She is gracious in both victory and defeat, and in the toughest moments of her career, her sportsmanship never wavered. On the ice, she had such a joy in her skating, and she reached out to every person in the audience with her emotion.


Have you always written?
I wrote a lot of stories when I was younger but then didn't write fiction for many years. I wrote for my high school and college newspapers, but it wasn't until three years ago that I started writing fiction again.

Which authors do you like (or find influenced you) the most and why?
Growing up, I read the Sweet Valley High series religiously, and those books are the foundation of my love for young adult fiction. Recently, I've become a fan of Rachel Hawthorne's young adult romances.

What was the inspiration behind writing a novel with competitive skating driving the narrative?
Watching skating often inspires programs or stories in my imagination, and I thought of this story of the skater-coach romance. I told a friend about the idea and she encouraged me to start writing it. At first, I was just writing for my sister and a few friends to read, but then I thought, maybe I could mold it into an actual book.

Several films, particularly Ice Castles and The Cutting Edge, use competitive skating as a platform for their stories, but lose credibility with the finer details regarding its depiction. How involved was your research to make sure that the sport was acurately portrayed?
This was VERY important to me. I love Ice Castles and The Cutting Edge, but many of their skating details drive me nuts with their inaccuracy. I wanted the skating aspect of my book to be as realistic as possible. No spotlights during competitions or ridiculous elements that could never be executed! I've attended U.S. Nationals and Skate America every year for many years, and I've also been to Worlds and the Olympics, so I'm very familiar with the scene at competitions. I also read skating publications, interviews, and message boards, which provide a lot of information about skaters' training and other behind-the-scenes details. And since I'm not a skater, I used YouTube videos to confirm the finer details of some of the skating technique.

Are the characters based on real people?
They're all products of my imagination, although there may be some characteristics that have been subconsciously inspired by skaters I've watched over the years. If you see a coach that fits Sergei's description, let me know!

What motivated you to test market sample chapters (as you were writing the book) via skating fan message boards? (To any other budding authors out there, aussieSKATES thinks getting feedback from one's prime demographic this way is a stroke of genius on Jennifer's part!)
When I posted the chapters on the message board, I actually wasn't planning on publishing the story as a book. I just wanted to share it with other fans and see what they thought. What I learned was that many people enjoyed the story. I also received some very valuable feedback on my writing. The criticism made me want to improve my writing, and that's when I started thinking about working the book into publishable shape.

Given the complexities of the current scoring system, was it a conscious choice to set the novel prior to its implementation?
The reason the book is set in 2000-2002 is because I first thought of the idea for the story in 2004 or 2005 (yes, that long ago!). I've always had the 2002 Olympics as the big event in my mind, and I also wanted to use the 2001 U.S. National Championships because they were held in Boston, my main character's hometown. But it was very advantageous that the 6.0 scoring system was still in place because describing Code of Points would be a challenge.

Your writing style is very filmic. Just for fun, who would you cast in the movie version of your book?
I've never heard the term "filmic" before, but I like it! In the movie version of my book, I'd like Kimberly Matula to play Emily. She currently plays Hope on the soap opera The Bold and the Beautiful. She fits the physical description of Emily, and the character of Hope shares many of Emily's values, so I can very easily picture Kim in the role. For the role of Sergei, I'd cast Josh Dallas, who plays Prince Charming on the TV show Once Upon a Time. He has the right build and hair color, the piercing blue eyes, and a very sexy voice. All the requirements! He would just need to learn a Russian accent.

Is there a sequel in the works?
There is! I'm currently working on ideas for the continuation of Emily and Sergei's story and plan to start writing it soon. I'm also exploring ideas for a future story centered around Chris. Just today I was talking to a friend about Chris and a possible story arc popped into my head!

Do you have tips for any aspiring writers out there?
Definitely work with critique groups, whether it's through an online site like Critique Circle or with a few writer friends. The support and advice I received from my "critters" was invaluable. You always need another pair of eyes (more than a few pairs!) to look at your work.
---
Life on the Edge may be purchased directly from the following distributors' links:
Astraea Press
Amazon
Barnes & Noble
Jennifer may also be found via her blog, Facebook or Twitter links: