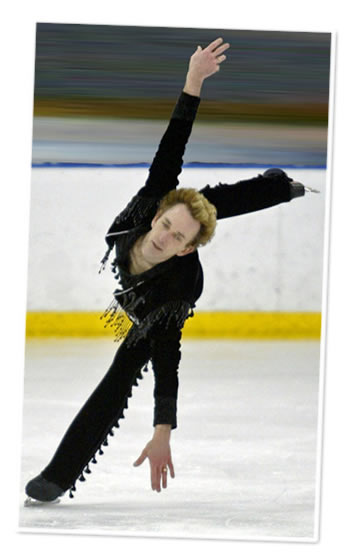 The 2010 United States Adult Masters Intermediate / Novice Men's Champion, Burton Powley, didn't discover skating until he was 13.
Living near his local rink, Burton was prompted to try, not ice skating, but its four - wheeled equivalent. Though he and his mum used to watch ice skating on TV, Powley's town did not have an ice rink. Instead, he tried everything on roller skates.
Until he was approached by an instructor offering to train him, Powley admits to being quite the tear-about. He used to cause trouble at the rink by skating too fast and jumping the walls.
After that, Burton's committment to roller skating was everything. Training 20 hours a week, that his coach also owned the rink, meant he could practice as much as he wanted. Cross - training involved riding his bike anywhere and everywhere until he turned 16.
Growing up, the 4 - time United States Men's and 1978 World Champion, Charlie Tickner, was one of his idols. In fact, Burton still does Tickner's trademark one armed death spiral in tribute.
The eventual transition from roller skates to ice proved interesting. One habit Burton found difficult to break was stomping his foot landing jumps.

When designing a new program for exhibition or competition, for Burton, the creative process can be very involving. Firstly, he will map out on paper the content and layout. Then, Powley transfers it to the ice, refining anything until he is happy with it. Regarding costumes and music, Burton cuts all of his own music, as well as designing and making his own outfits.

If there is a particular message or character he is trying to convey each time he performs, Powley's message is clear. Alway try to do something different from the rest. Favourite routines include performances to Stravinsky's Firebird, and tributes to Charlie Chaplin and the recent movie blockbuster, Avatar.

Burton's fondest skating memory can be traced to when he was living in Melbourne. One year he was coaching a lot of students, and his skaters placed first, second and third in Tiny Tots, Elementary, and the Juvenile divisions at the Victorian Championships. At that event Powley was dubbed "King of the Tiny Tots".

In 2005, Burton returned to competition after a five year absence. Some of the challenges he faced were, being older, he had to work much harder to get back in shape.
With 10 national titles and 5 international victories to his credit, clearly, his determination has paid off.