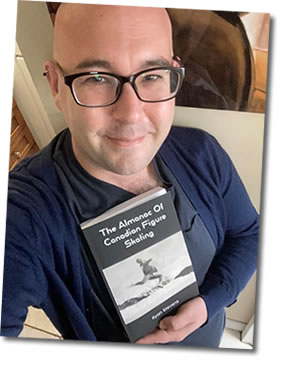 What is your first memory of competitive figure skating, either watching on television or in person as a spectator?
I don't have a clear memory of the very first skating performance I ever watched but like so many other people, I was really drawn in by the whole Tonya/Nancy circus in 1994. You couldn't turn on the television or walk through a checkout aisle at a store without seeing one of their faces on a magazine cover. It was huge. I remember seeing Toller Cranston perform an exhibition on television and just being in awe and thinking wow - that's how I want to skate. Elvis Stojko was huge at that point in time (and he was absolutely brilliant!) but there was kind of this push to get boys into skating because "Hey, look skating can be masculine too!" I didn't want to skate like Elvis - I wanted to skate like Toller! As a gay teenager, Toller was the role model I needed to see and ironically, the performance I would have seen of his would have been one he gave quite late in his career.
There is a cliché that Canadians are born on skates, and at some point, either play hockey or figure skate. Have you tried or competed in the latter sport at all, and if so, what was the experience like?
I was a competitive skater back in the day - nothing crazy but I won four medals at the provincial level here in Nova Scotia, three of them in Artistic skating, which is called Interpretive now. To put it kindly, I wasn't much of a jumper. I was a huge wimp who hated falling but I loved, loved, loved the artistic expression side of skating - spirals, hydroblading and being flamboyant and unique. Very much that 90's teenager "I want to be different from everyone else" kind of thing. Hockey is huge in Canada and I don't know how to say this nicely, but I'm not a fan at all. That said, it's hockey that keeps rinks open so play away is what I say! Team sports just aren't my thing.
What was the prime motivation for creating this book?
History is so important and this information should absolutely be out there for people. A lot of the material in the book simply isn't available online or can't be found without a lot of digging around in newspaper and magazine archives. The sport has such a rich history here in Canada and it deserves to be well documented. I think the book is not only a record or reference book for fans who have been following the sport for a sport, but it's fabulous for young people who want to learn more about the sport.
Was writing this book a natural steppingstone from your long-running skating history blog?
That's a great question! I don't know that there really is such a thing as a natural stepping stone because I approach anything I research or write the same way - whether it's a blog, magazine article or book. Putting a book like "The Almanac of Canadian Figure Skating" together took a lot of time and research but it was something I really wanted to do and I prefer working on bigger projects like this to smaller ones.
How long did the development process take, and what kind of research went into creating a book of this magnitude?
Well, the whole idea was really sparked by an encyclopedia type book by the late sports journalist Bob Ferguson called "Who's Who in Canadian Sport". It had short bios of Canadian athletes in all sports. I thought to myself - why isn't there something like this but just for skating? I started working on a list of Canadian skaters, coaches and judges I wanted to include then putting together bios one by one, pulling from everything from magazines, newspapers, books, war service records and genealogy sites like good old Ancestry.ca. It took months. Then I added more and more and ended up digging up results from the Canadian Championships back from the very beginning, which probably took almost as long as the bios did. Lots of dead ends a long the way and interesting finds as well - and not everything made it in there.
When you started out, did you know how much preparation or research would be involved?
Absolutely and I knew it wasn't something I could do in a month. When I first started blogging about 10 years ago, I really had no clue what I was doing. I kind of have a process for researching just about anything down to a science now and that's just come through learning from my own mistakes... and there have been many! Research takes time but it's a fascinating process.
Have you met any of your skating idols?
I've been very lucky! The first 'big name' skater I met was Brian Orser and over the years, I have been lucky enough to connect with a who's who of the sport at one point or another. I interviewed Dick Button years ago and he was an absolute hoot. This might sound like a cliche, but one thing I don't think a lot of people realize is how refreshingly nice most people in figure skating really are.
We were impressed to learn that the Canadian Men's Singles and World Champion, Elvis Stojko, appeared on Broadway in the musical, 'Chicago'. In doing research for your book, did you learn anything about some of the skaters featured that you weren't aware of or surprised you.
Absolutely. I think one thing that stands out is how many pairs skaters (and a few ice dancers too!) had a lot of success at the national level, mainly in junior and novice, as singles skaters. We always tend to think of teams as one unit and not as individuals, but quite a few elite level Canadian pairs skaters could have very well made it to the Olympics or Worlds as singles skaters if that's the path they chose. I think talent rises to the top in one way or another, no matter what. And that's not through luck - it's by a heck of a lot of hard work and perseverance.
Given there are stories and facts even the most avid fan may not know, did you need special permission to gain access to some of the information you highlight?
I just needed a half decent Rolodex and my little grey cells!
Who are some of your favourite Canadian skaters? What are the reasons behind your choice?
Yikes... I could get into trouble with this one! Barbara Ann Scott was the first real 'queen' of Canadian skating and she was an absolute legend. Toller Cranston is one of my all time favourites, because he pushed boundaries, was incredibly theatrical and unapologetically himself. Kurt Browning is one of the most gifted skaters I've ever seen in terms of musicality and versatility. He could honestly skate to "I'm a little teapot" if he wanted to and have the audience in the palm of his hand. If you've ever seen Patrick Chan skate live, his absolutely mastery of edges and the quality of his skating skills just aren't something that fully translates when you watch on television. Liz Manley was an absolute firecracker who, like Kurt, had that versatility and special ability to connect to an audience no matter what style of program she was skating. Barbara Underhill and Paul Martini were, in my opinion, one of the best pairs teams of all time and I think their skating spoke for itself. As for dancers, gosh... we've had so many great times but who didn't love Tessa and Scott? They really had the whole package.
Is there a competition or story about your favourite Canadian skaters which stand out the most?
I think in terms of stories about my favourite Canadian skaters, Barbara Ann Scott was a class act all the way but one thing I've heard from several people that I don't think a lot of people know is that she had a great sense of humour 'behind the scenes' as well. If you want to talk sense of humour, give the blog I did on Osborne Colson a read... there are some hilarious stories in there. As for really memorable competitions historically, I think any of the ones that have been held here in Halifax. The fact a city in the Maritimes hosted the World Championships back in 1990 was really such a huge deal if you think about it.
As a reporter, we have got to meet some of our influential idols including Canada's own national treasure, PJ Kwong, Daphne Backman (co-founder of ice-dance.com), the renowned figure skating photographer, Robin Ritoss, and the late Sandra Stephenson. Do you have any special mentors you would like to mention?
I wouldn't call myself a reporter but I do love writing about skating! I've been really lucky to have some wonderful mentors in terms of writing about the historical side of skating that I'd love to mention. Ben Wright, who was the ISU's Historian and an international referee and judge, was a walking encyclopedia of the sport and always someone I could call with questions and get answers. British Ice Skating's historian Elaine Hooper has been such an immense support and help over the years, as has Dr. Matthias Hampe, who writes for "Pirouette" in Germany. There are so many other incredible people who have helped me in countless ways and I could not have written the blog for all of these years, nor this book, without their generosity and support... and I absolutely agree - PJ is a national treasure! We'll have to get her a t-shirt made that says that!
Where can people order your book?
The book is available worldwide in hard cover, paperback and Kindle E-Book on Amazon.
If you're in the United States, you can also pick up a copy on Barnes & Noble.
One thing I'd like to let everyone know is that if you're looking for a hard cover instead of a paperback and need it by Christmas, I'd get your order in very soon as there can be a 2-3 week delay on hard cover printing. If you're OK with a paperback, they ship quickly with 2-day shipping if you're a Prime member.
---
Click here to visit Ryan's blog