What was your introduction to the sport?

I was first exposed to ice skating at a school friend's Birthday party, when I was 7 years old. The party was at a small, local, rink in a mall not for from my house. I really loved it and looked in to group lessons, where I progressed rather quickly.

Did you have any skating idols growing up?

I really looked up to Scott Hamilton. I felt he was such a strong dynamic jumper with so much charisma. Other skaters I admired were, Toller Cranston for his unique, artistic style, and John Curry for his strong, balletic, purist style. I also admired Toller because of his all around sense of being an artist both on and off the ice. I have a Fine Arts degree and have always enjoyed drawing and painting.

Can you describe what your first competition was like?

My first competition was in my own little mall rink in Greensboro, NC and I remember being a little nervous. But, that all went away once my music started. I remember loving to perform, and the freedom you felt gliding across the ice. I did also place first in that first competition, so that is similar to the character in my book as well. That first time is special and we should always be able to look back and remember it fondly.

As a competitor, what is your favorite skating or skating related memory?

I have a few but my favorite may have been winning the 1993 National Junior Pair title with my partner Stephanie Stiegler. We had only been together for one season, but we had worked so hard and were so proud of what we were able to achieve in that short time.

What factors influenced you to become a skating coach?

I always knew I wanted to be a figure skating coach. Peter Burrows is really responsible for shaping me as a coach. He was very stern as many coaches of his generation were, but you always knew he really cared about you and getting the best from you. I also love being able to shape young skater's minds and help them grow into not just great skaters, but great young people who are kind to one another and who display great sportsmanship and leadership.

What is the overall goal behind your book's creation?

The goal of the book is to inspire young readers to try skating if they aren't skating already and to give very young up-and-coming skaters an idea of what to expect and some helpful hints about what to bring, nutrition, stress management, sportsmanship and the importance of being a good, kind competitor and friend. The book can serve as a kind of ambassador for skating and a tool for coaches and parents to start talking with their very young kids and skaters about these life lessons that are so important. I think we need more material like this especially in the world of "I, Tonya."

How long was the development period in putting your book together?

The book was written in my spare time in a month and then had to be edited down of course. The illustrations took the most time, since I did them by hand as water color illustrations and then scanned them into the computer to be edited and manipulated in photoshop. This process took roughly 2 months because I worked on the illustrations in my spare time from my coaching job. From there it was editing and fine tuning back and forth with my publisher. Altogether I would say it took about 4 months to get to press.

How much did you draw on your own experience as a competitor and a coach?

I have completely drawn on my experiences from coaching and while the story's main character is the name sake of one of my actual little 6 year old students, the character really and truly is a combination of many of my students and experiences, past and present. I list a lot of basic universal principles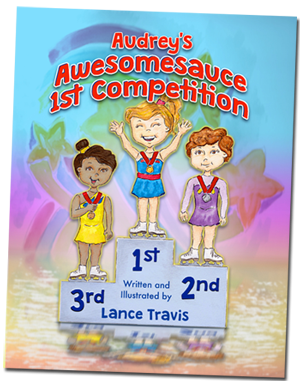 and rituals we as coaches use for competition, but in a whimsical, rhyming manner so the book stays fun and not too preachy.
As a skating coach, what needs will this fulfil for any youngster taking those first crucial steps into competition?

Hopefully this book will help give very young, potential competitors some idea of what to expect and ways to cope with nerves, how to be sportsmanlike and to remember to have fun along the way. There is also a "Keepsake Page" where you can record you very own "First Competition" information and even put in a picture from that first competition. This way the skater becomes a part of the book and Moms and Dads will appreciate that they and the child can always look back and cherish this special memory.
Can your book also be enjoyed by children who aren't skaters, but have an interest in the sport?

The book is meant to be enjoyed by all young children and hopefully inspire children who have never tried ice skating to find a local rink and experience skating for the first time or to maybe enroll in group classes. This book is a great way to inspire really young kids to try our sport and hopefully fall in love with it the way I did in our tiny, little, mall rink so many years ago.