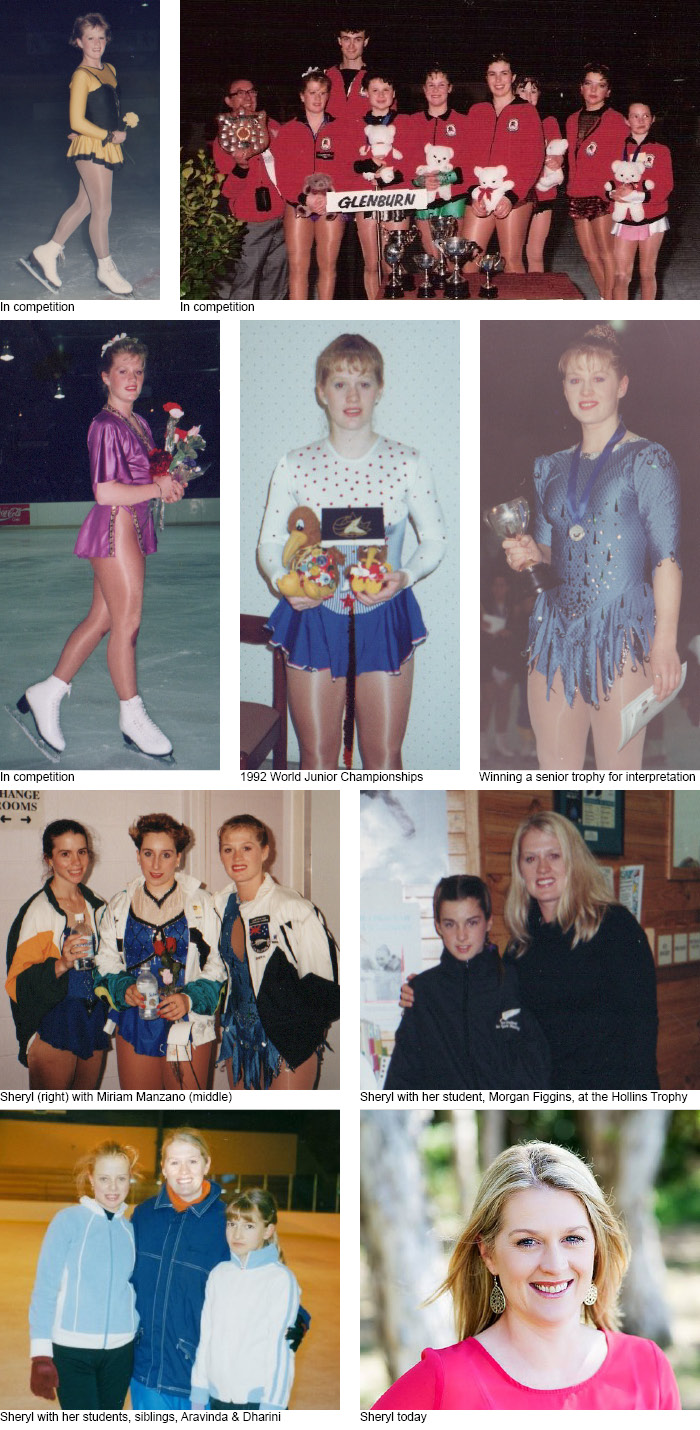 Sheryl's introduction to the sport happened when she was about six years of age.

Her mum always loved figure skating, and one day, she brought Sheryl and her sister to Auckland's Paradise Ice Arena. Sheryl immediately took to skating like a duck to water. From there, her mum regularly accompanied both siblings to public sessions at the rink. At the time, based on what she'd watched on television or video, Sheryl loved to try spinning and turns.
Shortly thereafter, she had to make a choice between gymnastics (which she was already doing) or skating. Since Sheryl was already in love with the sport, choosing skating was an easy decision. Soon, she started taking group lessons which led to private tuition. The rest was history.
Sheryl entered her first competition when she was about seven or eight. She clearly remembers one of her first programs using music from 'Singin' In The Rain'. Sheryl's mum also designed and made all of her costumes. She did this throughout her daughter's entire competitive career. Every outfit was custom designed for Sheryl.
Soon, there was a point when Sheryl became serious about competitive skating. She recalls standing on the medal podium, next to girls who were much older. She was about nine, and they were five years her senior. At that moment, Sheryl realised she had a talent that needed fostering.
Until she was twelve, Sheryl would train between two and three times a week. From there, it was up to four times. Leading up to competitions, sometimes more. Sheryl stresses she wasn't at the rink all the time. Her parents were very keen for her to have a balanced lifestyle, to enjoy the sport, and not burn out. Back then if Sheryl had her way, however, she would have been at the rink every day.
Sheryl's primary coach during her competitive years was Gordon Rushton, whom she really valued. Originally from Vancouver in Canada, Rushton returned home to North America a number of times. He did however, support Sheryl through her senior years of skating.
Her other coaches included Karen Adam from New Zealand, Brad McLean, also from Vancouver, and John Merserau, from the U.S.A.
As she matured, along the way Sheryl added in her own creative flair to her programs. Some of the music she skated to included "Ghost", "Free Willy", "The Cotton Club", "American Patrol" and a beautiful Japanese piece by Vangelis. Just to name a few!
Sheryl's preference was for strong, powerful music, as some of her strengths were power and speed on the ice. She also liked to have a theme, if she could, to get into character.
Further, Sheryl's skating idols were U.S.A's Scott Hamilton, and Japan's Midori Ito. Sheryl loved, in particular, Ito's power, speed, and determination.
For Sheryl, her off - ice training included using an exercise bike at home, as well heading to the gym for weight training. She also did jazz ballet in her younger years. Stretch was an important part of her off - ice regime as well.
When we asked Sheryl how she mentally prepared herself for a skating performance, she admitted that nerves were her biggest vice. She struggled to get her frame of mind consistent for competitions.

Therefore, from the time she was fifteen, Sheryl saw a sports psychologist for several years. It was very helpful, allowing her to use a lot of visualisation, and run through routines in her head.
During competition, instead of worrying about her rivals, Sheryl was very good at focusing fully on doing her best. Or as she put it, skating her own race. That was very important to her. Although she adds, perhaps having some idea of how to gain those extra points over her competitors, could have helped as well.
When we asked Sheryl to reflect on her proudest moments or skating accomplishments, she named two. Firstly, she was chosen to represent New Zealand at the 1992 World Junior Championships in Hull, Quebec. Secondly, Sheryl nailed her gold medal free skate test with a flawless routine. The latter happening, one day after placing second at the National Senior Ladies' Championships.
Back then, there weren't as many international championships as now. To stay competitive, often Sheryl would travel to Australia and take part in events here. Also, in the lead up to Junior Worlds in Quebec, she trained for six weeks prior in Ottawa.
In 1996, Sheryl left New Zealand for Vancouver to train with Canada's Karen Magnussen.
That arrangement happened, thanks to a couple Sheryl first lived with in North Vancouver. Shortly after Sheryl arrived, they insisted she visit Karen at the North Shore Winter Club. Sheryl did, and from there, Karen took her on for lessons. Karen's own coach, Linda Brauchman was also teaching on the same ice, too. Looking back, it was a very special memory for Sheryl. She considered herself very lucky.
Whilst in Canada, Sheryl's skating career drew to a close.
Upon leaving Vancouver in 1996, Sheryl moved to London for a year. That is where she met her South African husband, Ben. Together, they moved back to New Zealand, and married there.
Sheryl had a break from skating for about three years. However, soon after she got married, she decided she was missing the sport a lot. As a result, she returned to skating, this time as a coach. It was the best job ever, and one of the biggest rewards in her life after retiring as a competitor.
At the time, Sheryl would tell her students to always enjoy themselves and to do their best. As a coach, she was serious about training her kids hard. Still, she always made sure her skaters were having fun.
One of the highlights of Sheryl's coaching career, was one of her students winning their division at the prestigious Hollins Trophy.
Soon afterwards, Sheryl and Ben moved to Brisbane, before settling on the stunning Sunshine Coast. Sheryl stopped coaching since the move, because she was no longer living near an ice rink.
Today, Sheryl and Ben have two beautiful daughters. Both girls keep her very busy. Her eldest, Sophia (aged ten), adores dancing and ice skating. Sheryl's youngest, Lily (aged eight), loves school.
Sheryl is also an entrepreneur with several different businesses to her name. She is a shareholder in a new pilates venture, as well being a wedding stylist.
With the recent opening of a rink in Darwin, there is clearly a demand for skating in Australia's Summer climate.
For a long time, Sheryl has dreamed of opening a full - sized ice rink on the Sunshine Coast. Expressing her passion and interest in getting a rink off the ground, Sheryl has been in touch with the local council on two separate occasions. The biggest stumbling block is funding.
However, Sheryl truly believes that a year - round rink would be a huge benefit to both residents, and the large number of tourists that flock to the area.
The Darwin rink is proving to be a real success.

So, Sheryl has no doubt a rink on the Sunshine Coast would also be an amazing asset, too. It would give local kids and adults another hobby to get involved in, be it for one of the ice sports, or just for general recreation. Sheryl knows that a rink would bring her back to coaching, as well.
So, if anyone reading this would be interested in building a rink for the Sunshine Coast, please get in touch with Sheryl.
Finally, we asked Sheryl if she had any words for kids out there who were considering taking up skating as an after school activity or competitive challenge.
To her, it is unique, diverse, extremely challenging, and one of the hardest sports in the world to master.
Figure skating is an amazing sport.