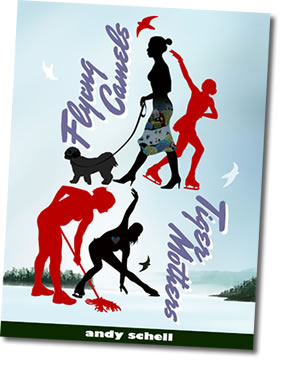 Tell us a bit about yourself and your background.
I grew up in Kansas, which is right in the middle of the U.S, and graduated college from University of Kansas. My first paid writing gig was penning jokes for Joan Rivers. During college I sent telegrams (this was before the days of the internet) to "The Tonight Show" during the weeks that Joan would guest host for Johnny Carson. Her manager finally sent me proper release forms to submit, and right off the bat Joan started buying my work. It was fun stuff for a 21-year old to hear his jokes being told on national television.

After college I went to Los Angeles and studied with The Groundlings, a well-known improvisation comedy group. I was taken into the Sunday shows and then cast by Julia Sweeney in a theatrical play she'd written. Julia went on to become a cast member of Saturday Night Live, and I wrote a play, "Confessions of a Boy Stewardess," based on years of my day job as a flight attendant.
I flew for a national airline for 15 years, then on private jets with celebrities for 3 years (oh, the stress!) and for the last 8 years I flew all over the world with a charter airline that transports U.S. military troops, though every once in awhile we flew troops of other countries…like Australia!

Oh, I forgot to mention that somewhere in there I had two novels published by Kensington Publishing, in New York.
What are your first memories of the sport of figure skating? Do you skate yourself?
I showed horses as a kid. Nothing fancy. My mates and I rode Western style, not English. But there was a solid circuit of shows in that part of the country, and I loved competing.

One weekend when there wasn't a show, one barn kid's mother organized a trip for all of us to the local ice rink to skate a public session. That was it. I was hooked from the moment I put on those rental skates. I was doing waltz jumps and spins my first time on the ice, imitating what the real skaters were doing. So I talked my mother into buying skates and lessons. I was almost ten years old, and those were the days of school figures.
Though I have utmost respect for them now, I had no appreciation that they were truly the fundamentals of skating. I just found them to be difficult and boring, but I didn't have a choice, I had to do them. I only passed the first two figure tests, and only competed once in Pre-Juvenile Boys at regionals—where I came in dead last.

I stopped at age 12, and didn't skate again until I was 37. But once I picked it back up, I had my axel within a month, and I was hooked again. I've had much more success at competing as an adult. Twice I've won the silver medal in one of the two championship singles events at the U.S. Adult National Championships. At one point in my early forties I had everything back up to the double Lutz. It's fading now. I just turned 52 this week and I'm still holding on to the double toe, salchow, and loop. But more important than medals or jumps, I still love to skate.
Did you have any skating idols when growing up?
Definitely. I thought Ken Shelley was amazing, skating pairs with JoJo Starbuck and entering singles too – and winning both national titles in the same year (1972). As pairs skaters they were absolutely magic. Then Ken would go out there alone and excel once again. No one could do that today.

I admired John Misha Petkevitch, and thought Terry Kubicka was really unique. Then there was Charlie Tickner, who was so classical and strong. He's a friend of mine today, and helped coach me through Adult Nationals in 2010.

As far as the women, the there was that golden triad of Peggy Fleming, Janet Lynn, and Dorothy Hamill, who monopolized the women's title from 1964 with Peggy, through 1976 with Dorothy. Skating has changed so much since those times - mostly for the better, I think.

Figure skating is more of a sport (now), a physically challenging and daring sport to watch. But it's also for the worse in some ways. While the biases and politics of the judging during the older days were horrible, the old system of judging did allow the skaters to be so much more free. I think the current point system is certainly more fair, but there's no room for anyone to just skate anymore.
The skaters don't have a moment to spare. No one can just hold a beautiful position and glide while the audience takes it in, or luxuriate in a spread eagle that crosses the entire end of the rink. It's kind of sad, this whole rush to point-grab during each program.
The 2002 Olympics showed us all that having the judges determine the outcome of an event before it has started (and all of us in the skating world know that wasn't the first time that had happened) just takes all the legitimacy out of our wonderful sport. The 6.0 system had to go away, it was used criminally at times. Points are the way to go; I just wish they'd build in a couple of designated "open" moments when glide or hold of positions was not only required but scored. Everyone would be better served, both the skater and the audience.
Have you always written stories? Which authors do you like, and who has influenced you the most?
I have always written, since I was a boy. I just liked to write. I'd write little shows, or short stories, or comedy sketches. My favorite author is John Steinbeck. I just love "Cannery Row." The characters are the best. The juxtaposition of such a simple plot and such complex characters is so impressive. His nonfiction book, "Travels with Charley" is a favorite. He packed up his big standard poodle, Charley, and hit the road in a camper truck that covered over 16,000 kilometers across America.
It's kind of a lonesome diary of a man/dog road trip, with local color, and deft social commentary of the very turbulent social upheaval. I think because I've been a world traveler with my job in the past, and a dog-lover, it speaks to me.
These days I'm hooked on all the Haruki Murakami novels. I'd call him a quirky, existentialist Japanese author, and I think I like him because I spent several years in Japan with my job. Have these authors influenced my writing? Not much! I love Steinbeck and Murakami, but I don't write at all like any of the authors I prefer to read. It would be a mistake to try to copy anyone else's style. I'd call my writing humorous and accessible. Even when I include serious passages or narration (like the voice of Mei Chen), people tend to remember my humor when they read my writing.
I'd like to mention one more author if I may, because it relates to figure skating. I highly recommend Lucinda Ruh's autobiography, "Frozen Teardrop." It's so unlike any other skater's book. I was blown away by the quality of her writing, and her ability to self-analyse a very complex life. She's as enigmatic on the page as she was on the ice. She's brilliant.
Is this your first book with a skating theme?
Yes, this is my first book with a skating theme. My first book was a romantic comedy, set in Texas in 1984. It was published by Kensington and did very well. My second book was a coming-of-age surfer novella (surfing is another love of mine) set on the island of Maui in Hawaii. It was nominated for a Lambda Literary Award.
But Kensington just wanted me to write for the gay audience, and I didn't want to do that. When you're picked up by a publisher, they basically want to stick you into a category and have you write the same book over and over in order to establish a fan base. I understand the business part of it, but it doesn't make for a very interesting life as a writer.
My agent said I could write for a general audience after I'd published five or six books for gay readers. I had trouble writing under those conditions, and eventually I just stopped.
What was the inspiration behind writing a novel with this particular sport driving the narrative?
Flying Camels and Tiger Mothers was a personal labor of love—with nobody telling me what I could or couldn't do. And it was the first time I'd written anything from a woman's point of view.

Both narrators are female, one a teenager and the other an adult. It was a challenge, as a man, to do that. My inspiration to do it was born from my experiences at the rink. I have always been fascinated with the dynamic of parent-child relationships in sports. My own mother was a complete failure as a "skating mother". She was very supportive as far as buying me equipment and lessons, and driving me to the rink. But she never stayed to watch me skate; I'd look back in despair as she drove away. She and I laugh about that now, but I did wish for a mother standing on the sidelines like most other kids had.

I attended middle school and graduated high school with Peggy Oppegard, Olympic bronze medalist Peter Oppegard's sister. The Oppegards lived close by, and it was Peter's mother I yearned for. To me, there is a pattern among the top elite skaters. They all have a strong parent behind them. Sometimes that's for better, sometimes it's for worse—but it seems necessary in order for them to succeed. Yet, when a parent is unable to separate their own ego from their child's ego, things can get mighty unhealthy. I wanted to create a snapshot of that unhealthiness, and with the magic of writing, turn it into a story where I could create an ending that would satisfy the characters, the readers, and myself.
Several films, particularly Ice Castles and The Cutting Edge, use competitive skating as a platform for their stories, but lose credibility with the finer details regarding its depiction. How involved was your research to make sure that the sport was acurately portrayed?
I agree about those films. And this is a very good question to ask. I think the reason I've used both surfing and skating in novels is because I know something about those sports. And it's the oldest cliché in the book: write what you know. But that said, I now understand what a fine line it is when you are trying to write (or make a film) for a broader audience. You can't just write exclusively for figure skaters, because it's too limiting if you wish to have a larger audience. But you can't dumb things down either, just for the sake of drama or to appeal to neophytes.

So this is something I struggled with a lot in the writing of the book, and I have no doubt that there will be people who weigh in on this. I had to make a choice about certain things. For instance, in early drafts of the manuscript I had more details of the International Judging System. And I also had scenes of Mei Chen doing Pilates and more off-ice training. Any elite skater would say that off-ice plays a much larger role than what is in my book. There is diet, ballet, Pilates, swimming, massages, injuries to tend to, costumes to design, sports psychologists, etc. I had to decide what moved the story along and what didn't—and that caused me to cut a lot of things from early drafts.

I wanted to concentrate on the mother/daughter relationship as the focus of the book. Figure skating was a conduit for what I was trying to say about parents and kids and politics in elite sports. But I do hope skaters sense the book is authored by someone who skates, and that they feel the sport is authentically represented.
There is a notorious YouTube clip from CBS Sports filmed in 1986 where the defending United States National Champion and 1985 World Bronze Medallist, Tiffany Chin, is being interviewed by John Tesh about her preparation for the upcoming World Titles in Geneva. Half way through the interview, Chin's mother goes into a rage about Tiffany's poor work ethic, meanwhile demanding that the camera is turned off too. Therefore, with the sport rife with skating parents, are the main characters based on real people?

Of course I've seen that clip. But there is no main character that is based on any real person, and I don't just say that for legal reasons. My mate of twenty-something years, Jonathan, is Chinese-American. For the first fifteen years we were together his parents were alive and kicking, and I emphasize the kicking. Actually, Jonathan and his three sisters tell me how easy I had it, because when I met their mother, Lillian, she was already seventy years old. But even then she was a force to be reckoned with. We'd play tennis and she'd stay up at the net and slam balls into my head! But for some reason she took a liking to me. Jonathan and his sisters chided me about how easy I had it.

But as the years progressed and I became more and more like a real son to her, things changed. She grew harder and harder on me, and I was not spared her "nurturing". She came to see me compete once at Lake Placid for the U.S. Adult Championships. And after my freeskate she told me how accomplished the skating of my friend and competitor, Gilbert Chiang was, while making no mention of my skating at all. A very Chinese mother thing to do! As far as the character of Norma Gardner, she is an amalgamation of many of those desperate moms who never made it themselves as children, and have turned that unfulfilled remorse loose on their own children. Ming Chen is a steely typhoon, while Norma Gardner is a raging hurricane. But a typhoon and a hurricane are the same thing, just labeled differently depending on which side of the international dateline you are on.
How did you decide on such a quirky, provocative title?
I'm glad you find it quirky and provocative!
The original title was "Flutz." But that is an example of what I was talking about before when I said I couldn't just write to skaters. Non-skaters would have said, "What?" So then it was "Flying Camels and Dragon Mothers." That actually might have been good, since this is the year of the Dragon. But Amy Chua's book "Battle Hymn of the Tiger Mother" helped propel that phrase further into the lexicon of pop culture, so in the end I thought that it would be better to change Dragon Mother to Tiger Mother.
Further, the two moves non-skaters seem to always know are the flying camel and the triple Axel. And I thought it would be interesting to have two animals in the title, a camel and a tiger, even though the only animal in the book is a naughty little dog!
Just for fun, who would you cast in the movie version of your book?
I think Teri Hatcher would be the perfect Norma Gardner. She'd have to gain a few pounds and frump herself up a bit, but her comic timing is impeccable and I think she'd nail it. And I think Lucy Liu would be spot-on as Ming Chen, with her porcelain beauty and icy intensity.
For the skaters, you'd probably have to find unknowns – but there are thousands to chose from at that age who can skate. Producers would have to find two that can act as well. The character of Tonya might be easier, since she's somewhat comfortable in her skin. But the character of Mei would require a girl who could convey great complexity in little words.
Is there a sequel in the works?
Not presently.
I'm working on a collection of comedic short stories set in aviation (something I couldn't have done while being locked in with a publisher). But I'm aware that Russia 2014 is only two years away, and it would be perhaps wise to explore the possibility of a follow-up with these characters.
Do you have tips for any aspiring writers out there?
Write! I meet so many people who say, "I've always wanted to write a book," but then their voices trail off. Writing is no different than skating; you can't improve without practice. It's a learned skill, and to learn you must practice. Take a class or join a writers group. Whatever it is that interests you, just sit down and spend a little bit of time writing about it each day. And the more you practice, the easier it gets.

You start to see what's real and what's fake. And no matter how bad you think it is in the beginning, just keep writing. Because another cliché comes into play here: It's in the rewrite! That's where the practice and training comes together. Whatever it is that you write, keep reworking it and massaging it and transforming it. And like a skating program that you are perfecting, one day you'll nail it and say to yourself, "This is it!"
---
Click here to purchase Flying Camels & Tiger Mothers directly from Amazon.

Click here to follow Flying Camels & Tiger Mothers on Facebook.
Click here for Andy's series of YouTube videos including such skating identities as Tracy Wilson, Meryl Davis & Charlie White, Jeremy Abbott, and Luis Hernandez, with more to come.